Family Sees Stroke Survivor's First Unassisted Steps Thanks to Telehealth Technology
There was not a dry eye in the hospital hallway -- or on the computer -- as Tom Delaronde took his first unassisted steps after surviving a stroke. Though unconventional, the virtual visit allowed Mr. Delaronde to share the recovery milestone with loved ones staying home to slow the spread of the novel coronavirus, COVID-19. Just weeks ago, Mr. Delaronde's family cheered him on in person at the University of Vermont Health Network - Elizabethtown Community Hospital. Since [...]
Read More
1 2 3 4 >
Our Commitment to the Patients and Communities We Serve
[...]
Read More
---
Tammy Devlin, LPN Honored with The DAISY Award for Extraordinary Nurses
The 23-Year nursing veteran always puts patients first
Known for her quick wit and generous smile, Tammy Devlin, LPN, was honored with The DAISY Award for Extraordinary Nurses®. Devlin shares her passion for nursing with patients at the High Peaks Health Center, in Wilmington, N.Y. She was selected for the honor after a hospital committee reviewed nominati[...]
Read More
---
The Difference is Our People
Every day, employees of the UVM Health Network – Elizabethtown Community Hospital come together to care for our patients and each other in extraordinary ways. We work as a team to make a meaningful difference in the lives of those who turn to us for their care. In 2022, the dedicated individuals below marked a milestone in their [...]
Read More
---
Rebecca Crowningshield, RN Recognized for Professionalism and Compassion
ECH Honors Veteran Nurse with The DAISY Award for Extraordinary Nurses.
Rebecca Crowningshield, RN, a nurse caring for patients in Infusion, Cardiology and Gynecology on our Elizabethtown Campus, is the second nurse to receive ECH's DAISY Award for Extraordinary Nurses. An 11-year veteran, Crowningshield was nominated by Dr. Lynne Macco, OB/GYN, for her pr[...]
Read More
---
When Time is of the Essence
For stroke patients in rural areas, new technology can save a life.
Many people are aware that it's important to get care quickly for stroke patients, but they may not know just how crucial fast action can be. "Left untreated, a stroke victim can lose millions of brains cells every minute," says Daniela Zambrano, MD, a vascular neurologist at Read More
---
Naomi Tuthill, LPN Honored for Skill and Kindness
ECH presents its first DAISY Award for Extraordinary Nurses
When you love what you do, it shows. Naomi Tuthill, LPN almost glows when speaking of her chance to help others, "I have the privilege of caring for my neighbors and the opportunity to make a difference in people's lives." Known for her positive attitude and attention to patients' concerns, Tuthill is [...]
Read More
---
'It's never too late to switch up your career'
As an archaeologist, Michelle San Antonio has always been driven by a desire to learn and discover new things. But in 2018, she found that she was no longer at ease in the museums and historical non-profits that for years had served as the focal point of her career. Instead, the Johnsburg, New York woman found herself wondering if she had what i[...]
Read More
---
Every Step Counts: Exercise is Key to Success for Cardiac Rehab Patients
Clinical exercise physiologist Dylan Daniels, EP, CCEP, has heard all the reasons why people can't exercise, and he has a solution for each.
Exercise… The word itself can spark anxiety for many. It's easy to come up with excuses to avoid exercise, and even easier to fall into sedentary habits. Dylan Daniels, EP, CCEP, understands. As a Clinical Exercise Physiologist at UVM Health Network – Elizabeth[...]
Read More
---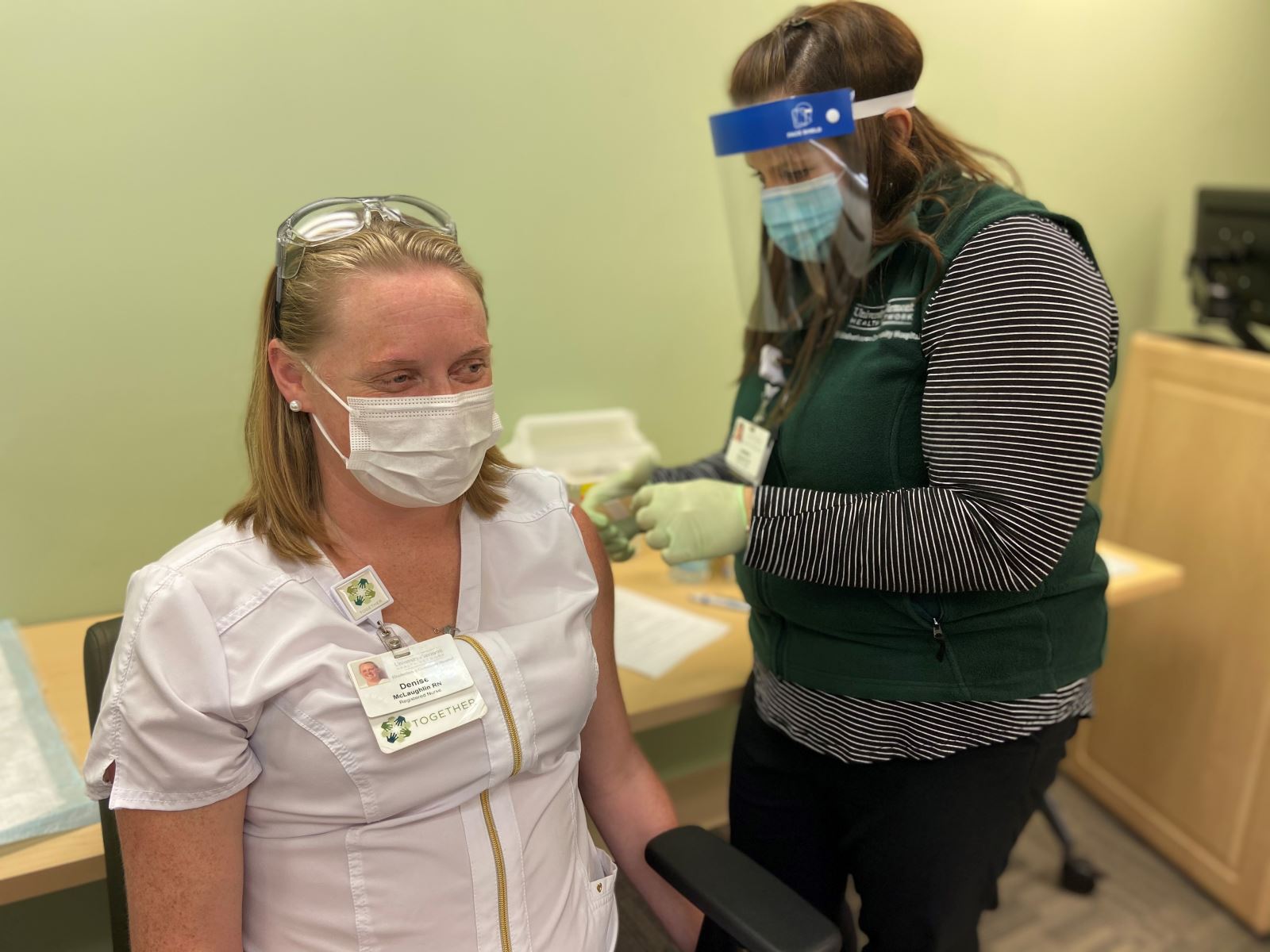 Taking Care of the Community, One COVID Vaccine Dose at a Time
Between late December and the end of April, UVM Health Network - Elizabethtown Community Hospital (ECH) helped vaccinate more than 1,400 people in Essex County, N.Y. – an impressive feat for the small, critical access North Country hospital. At the heart of the effort were Chief Nursing Officer Julie Trom[...]
Read More
---
Surviving Stroke
Gayle Alexander started noticing the symptoms of a stroke in the first week of January, 2020. "I was at work and my back was sore, and I was having trouble reaching for my SHIFT key while typing. A couple days later I was losing fine motor control. I held my arm out and I asked my husband to push down on my arm and it went right down.&rdqu[...]
Read More
---