Taking Care of the Community, One COVID Vaccine Dose at a Time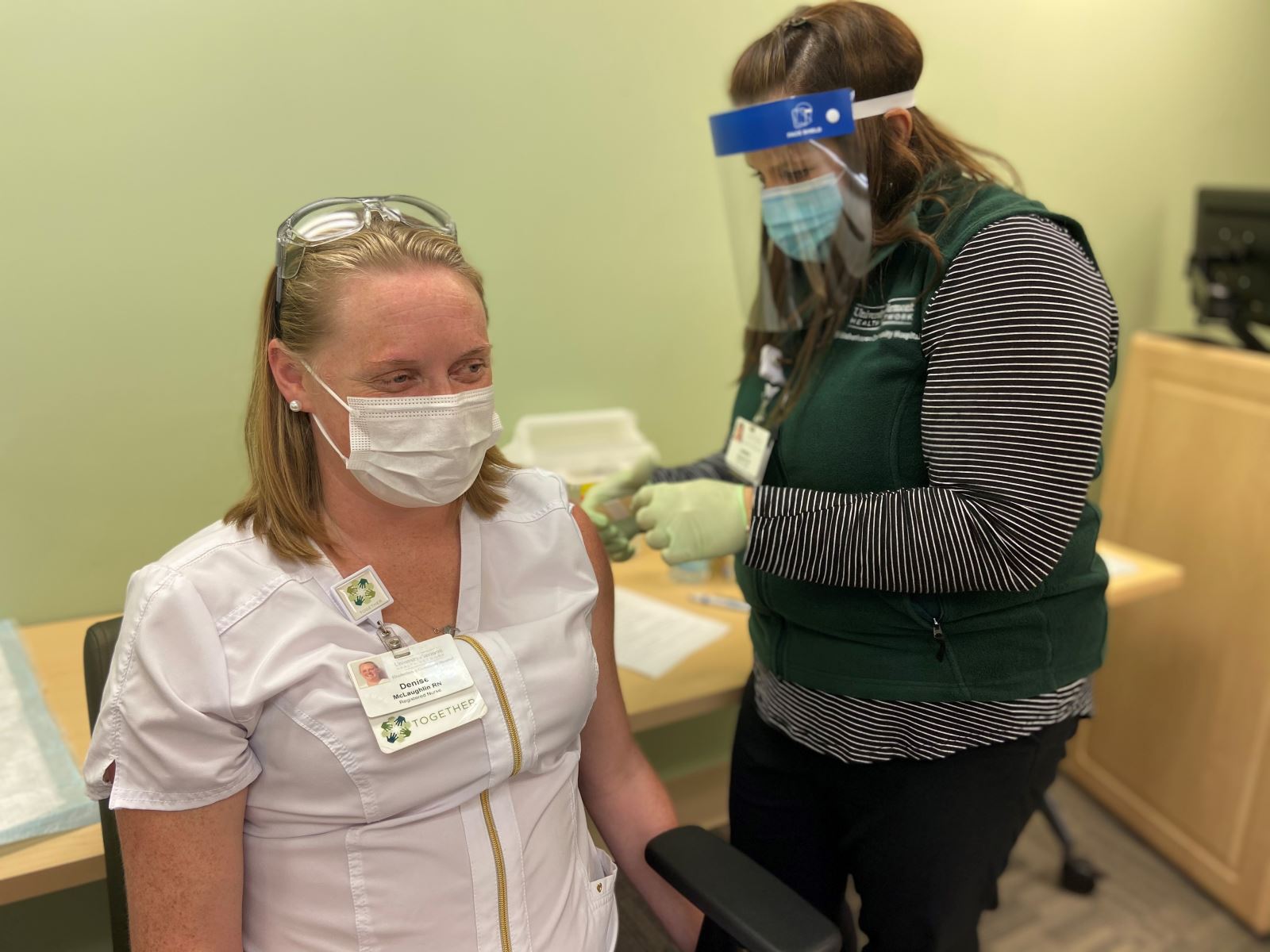 Between late December and the end of April, UVM Health Network - Elizabethtown Community Hospital (ECH) helped vaccinate more than 1,400 people in Essex County, N.Y. – an impressive feat for the small, critical access North Country hospital. At the heart of the effort were Chief Nursing Officer Julie Tromblee, MSN, and Heather Reynolds, MSN, director of quality. The dedicated duo adopted a personalized approach to educating staff and community members about the COVID-19 vaccine while simultaneously creating a meticulous system to make sure no doses were wasted.
"We had a list of standby arms," says Tromblee. "We have wonderful community partnerships we could turn to for help with finding people in prioritized groups who were waiting, and we would also always check our inpatient unit and then we'd go down to the emergency department to see if any of those patients were eligible and still needed their shot."
The nurses went out of their way to match available vaccines with willing arms – texting and calling contacts at the Office for the Aging, ECH's primary care centers and other organizations (including the local knitting club) to ensure no doses went unused. When needed, they ventured beyond the hospital lobby's makeshift clinic to deliver shots carside to people who needed extra help, from a 102-year-old woman to a mother with a sleeping newborn. They boarded the van from Mountain Lake Services for the developmentally disabled to deliver shots seat by seat.
Reynolds, dubbed "the drawing queen" for her precision in filling syringes with the exact right amount of vaccine, was able to draw and administer an additional 50 doses overall from the supply that was delivered to the hospital. The nurses credit former president John Remillard for heeding their request to forego the government-supplied syringes and order low-dose syringes that allow for more accuracy.
Managing the flow of supply and demand for the vaccine involved a complicated "COVID math" that Reynolds and Tromblee solved on a near-daily basis for months between Christmas and the end of April, when the county health department took over the vaccination effort.
"At first it was like the lottery, because everybody wanted to be vaccinated," says Reynolds. "After a while, when appointments opened up, it became a matter of trying to find an arm. It was stressful."
"To this day, we haven't lost a single dose," Tromblee adds with a smile.
One day, Reynolds had exhausted all possibilities to find someone from the prioritized group and faced a "use it or lose it" situation with the last dose. "And I wasn't about to lose it," she recalls. So Reynolds turned to their UPS man, who routinely delivered vaccines to the hospital's clinic, and asked if he was ready. He left that day having received his first shot of Moderna vaccine.
Tromblee tears up when she is prompted to reflect on what leading this effort has meant to her personally: "This is what we're here to do, to take care of our community – our patients and our staff – to get our lives back to normal," she says, adding that the hospital has achieved an impressive 91 percent vaccination rate among all employees.
The effort, Tromblee and Reynolds point out, was an all-hands-on-deck experience. Everyone, from the hospital president, to the head of facilities, to nurses and administrative staff, pitched in to help screen and register people and staff the clinic.
"At a small community hospital like ours, that's what happens. Everybody jumps in and helps where they can. And once they helped out once, they wanted to come back again because it really was a fun experience," Reynolds says.
Adds Tromblee: "It was a friendly, hopeful time despite the pandemic going on outside."